April showers bring May flowers!
Our development team has been showering us with updates that we anticipate will turn into flowers for your operation! Keep reading for an excerpt of the latest and greatest tools available to flight schools using NeedleNine.
Schedule Improvements
Many of our most recent changes to NeedleNine center around improving your staff's and client's experience with the schedule.
The first change is the introduction of a Change Log to each reservation. From the "Edit Reservation" fly out, select the button in the top right corner. This will open a log of all the changes made to that reservation. Only employee users of the flight school are able to access this Change Log, empowering your team with the information they need to know if changes made are within company policy.
This log can be downloaded as a PDF to your computer, via the 'download' button on the top right corner.
The second change is that you can now hover over the tail numbers of aircraft with an upcoming or expired schedule maintenance item that is required for dispatch, or if a discrepancy that downs the aircraft has been entered.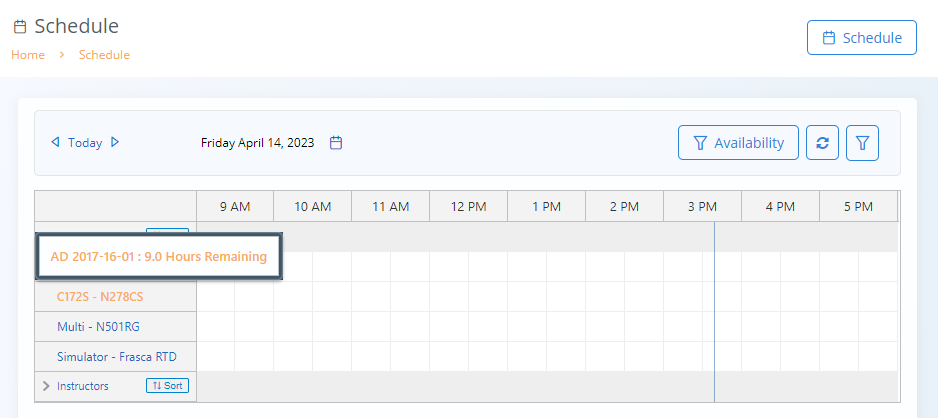 If there is more than one upcoming maintenance item that will soon need to be addressed, all will display on this schedule overlay.
Text Message Notifications
From the NeedleNine App store, flight schools may now enable Text Message notification! This feature will automatically send a text message reminder to your clients at 9am the day prior to their upcoming reservation.
For clients and employees who are listed as the primary "Pilot" on a flight reservation, they'll be directed to manage their reservation through their own NeedleNine account. For your Prospective Clients who are scheduled for a Discovery Flight, they'll be directed to reach out directly to your flight school, should any changes be necessary.
If your flight school has this feature turned on, your clients with a phone number saved are all automatically enrolled with the Text Message Notifications setting turned on. They are able to turn off text message notifications in their NeedleNine account.
Calling all Dispatchers!
Since our beginning, NeedleNine was designed as a solution for flight schools to lower their administrative costs by empowering flight school clients to manage their own schedules, effectively creating a "self-serve" flight training model. While we stand by this framework for many flight schools, we've come to accept that other models — namely having dispatchers manage the schedule on behalf of everyone — can be a profitable model for flight schools. As such, it is important for NeedleNine to support workflows that require dispatchers to manage the schedule.
Therefore, we've developed a solution that restricts client-type users from managing their own schedule. When enabled, an employee-type user (e.g., Customer Service Representative) would be responsible for the creation, modification, dispatch, check-in, etc. of all reservations on behalf of clients.
If you are interested in this functionality, please contact us at s[email protected], and our team will get in touch with you!
Please be advised that at this time, the 'dispatcher model' can only be activated for your flight school by our technical support team.