Why establishing an acquisition funnel leads to more students and renters for your flight school.
Flight schools are busy managing day-to-day operations with little time to spare tracking leads and converting them into clients. In fact, most schools do not have the processes or technology in place to capture potential student interest, let alone implement a formal strategy to follow-up and convert them into a paying client. To be fair, there are few good tools that meet the needs of flight schools. Most traditional Customer Relationship Management (CRM) solutions can be expensive – and have far more features than our industry needs – which makes implementation difficult. So, what is a flight school to do?
In this article we will share some tips and guidance on how you can implement best practices for your operation.
What is a funnel, and why do you need one?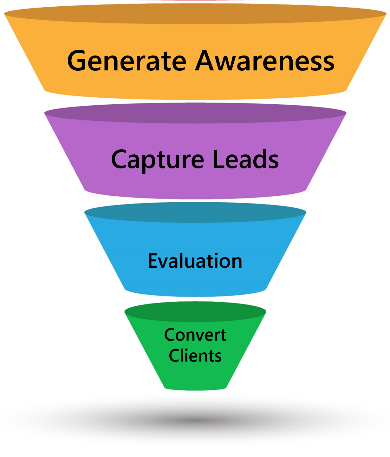 Funnels give business owners and operators a way to measure marketing strategies and identify deficiencies. Typically, there are two types of funnels: Acquisition & Retention. The acquisition funnel helps you build a workflow to capture leads and convert them into clients; this is also known as Lead Management. The retention funnel helps to keep existing clients spending money at the flight school. This article will focus on the acquisition side, so check out our Retention Article on best retention practices.
Generate Awareness
The first step is Generating Awareness. This includes a very broad area including marketing, branding and outreach. Our other articles cover these areas in detail, but for the purposes of our sales funnel, consider these simple tools to begin generating leads.
Develop a Web Presence that gives your prospective students the information they need about your flight school. Make sure to keep it up to date with the latest aircraft and instructor information. You don't need to break the bank in developing a successful website, but at the same time don't skimp on this either. Your website is likely the first impression prospects experience, so ensure it is informative, engaging and reflects your unique culture.
Be Easily Found by prospects researching schools on Google, Bing and other popular search engines. Purchasing keywords and optimizing your SEO isn't as complex as some may say. This process typically takes a little effort that will have a big impact. Even free SEO tools pay dividends in the long run. If prospects can't find you on the web, they most likely won't know your flight school exists.
Social Media is another method of awareness generation, including Twitter, Facebook and Instagram. These are all typically paid advertisements. This will depend on your market, so do a quick keyword and group search before committing to these social media strategies.
Word of Mouth remains one of the most effective strategies, since a neutral third party is advocating on your behalf which lends credibility to your operation. Referral incentives can be a powerful tool to increase business with little cost. For example, a free flight hour for a referral that results in a course enrollment may cost you $200, but if it results in $20,000 of revenue, it's clearly a good investment.
Capture Leads
Leads come in several forms, and it's easiest to keep track of all that information in one, single location. Every time someone new reaches out to your organization, document it in your lead tracking tool. In our experience, the most important items to document are the person's name, contact information (email and phone number), reason for contacting you, and any other facts about themselves that they've provided. This information will be useful to you (or your team) next time you and the lead communicate.
There are many ways that prospective clients may reach out to your organization. Email remains a popular avenue for potential clients to inquire about getting more information on your organization. However, the most basic – and often overlooked – contact method is your Phone. Prominently display your main contact number in every customer interaction, including website, directories, email signatures and print materials. A prospective client may have several questions, and a quick phone call remains the easiest method to reach out. It is very important someone answers these calls, as prospects are quick to move on if they are not able to reach you in a timely manner.
We recommend that your website has a simple Contact Form. Most potential clients thoroughly research flight schools before making contact, so make sure your website is informative and has a call-to-action on the main page. For example, your call-to-action could be "Schedule a Discovery Flight Today", or "Start Flight Training Today". This should provide you with contact information to follow up and make it clear to your team about what service the lead is inquiring about. We do not recommend having a complex form for potential students to fill out. Although this can help streamline your workflow and give you more information about the potential student's request, it actually tends to deter people from giving out too much information.
Evaluation
For a small operation, the owner or manager will need to dedicate a portion of each day to reviewing and following up with the lead list. As you scale, this task can be assigned to dedicated customer service representatives or even instructors. Every interaction with each lead should be documented. This will provide your team with relevant information to deliver tailored communication and drive positive customer experiences.
Evaluating each lead is important to focus your time and energy. For example, prospects reach out for a variety of reasons when scheduling a Discovery Flight. Are they hoping to become an airline pilot? Are they looking to become a pilot for personal and/or business travel? Or is the flight a gift for a friend's birthday? All are legitimate leads and should be given due effort to become a client. But if upon further investigation you find the friend has no intention of becoming a pilot, then move on. Provide them with a great experience they can share with friends and family, but focus on the more promising prospects to grow your business.
If a lead does not become a client, try to capture the reason. Whether it is money, aircraft availability, instructors, or something else entirely, have a workflow to capture this data and better understand the barriers to patronize your business. Use this insight to implement improvements to your business model.
Convert Leads
The last step is when the lead decides to become a client. While it is the last step in the Lead Management process, it marks the beginning of a deeper, ongoing relationship between your flight school and the pilot. By capturing relevant information throughout the Lead Management process, your team will be able to support your new client throughout their flight training goals.
Developing a sales funnel takes commitment in time and money but is a necessary investment for every successful operation. NeedleNine's integrated CRM allows you to implement an intuitive Lead Management workflow and ensure you are proactively converting as many Leads into Clients as possible. By capturing all the information about your leads in NeedleNine, the information you gather about each client stays with their individual profile – meaning your entire team has access to each person's unique aviation story. For more information about our CRM, contact us for a demo.